by Michael Parker
This spring I enrolled in the electrical lineman class at the community college a few blocks away from the art program I am also enrolled in. In the class, while recording pictures, video, and oral histories with students, I began what has become a 6-month investigation into the potential of art in the micro society of the spring 2009 lineman class.
The class taught fifty, 18-46 year old students, how to become power-pole technicians; a highly skilled and well-paid trade. In the class, I met a food scientist in need of change, laid off construction workers, a Zen monk, ex-cons, warehouse box movers, recovering addicts, veterans of Iraq/Afghanistan, the children of border crossers, descendents of American slaves, slackers, jokers, and serious men who love to work hard.
When the lineman trade began (during the Tesla – Edison wars for alternating versus direct current AC-DC) one in three linemen were electrocuted or fell to their deaths. The trade still attracts risk takers, but now abides by detailed safety regulations that make death on the job much less common. The class at Los Angeles Trade-Technical College focuses on wooden pole climbing. Longtime lineman teacher, Ken Bushman, who is also a trained hypnotherapist, regularly instructs students on how to focus at the tops of power poles. Breathing exercises keep them directly in the moment and able to work as high as 120 feet off the ground. Linemen work in teams, and as students, they seek out others to critique their climbing. The class adopted the saying, "I am my brother's keeper". They formed a bond relaying this phrase daily like a secret mantra. With real work to be done and hopes to gain better employment, differences among people's backgrounds seemed to be of no importance. Korean, Black, Filipino, White, Mexican, Guatemalan; people genuinely worked and socialized like friends and family. Though each individual would say that they were there to step up for themselves, each student constantly gave support (through criticism or encouragement) to their class (classmates). Through the fluid evolution of fifty men working together 8 hours a day, 5 days a week, as diverse a class of people was formed as I have ever experienced, heard, or read about.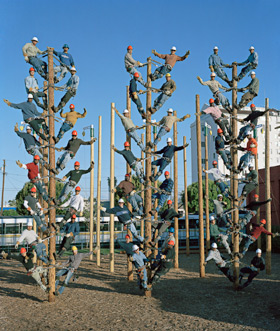 On May 1, the class mounted a public exhibition of the work we made together -May Day: Follow the Energy – Control the Power at a University of Southern California art gallery. The exhibition included two class portraits each showing 46 linemen-to-be on three poles smiling into the future and a 2-channel video. In the video, linemen-students passed a double-camera-baton between the grid of power poles simultaneously creating both portraits and self-portraits. A second public presentation was planned on June 2; this time, a live event at the "poleyard". On the Sunday before this show of climbing, DJ-ing, feasting and the release of Lineman (our 60-page newspaper/yearbook (1)), I received a phone call from Will Gillespie relaying a situation quickly unfolding. Local Union IBEW 18, the lineman union for Los Angeles' Department of Water and Power (DWP), was opening their books, hiring certified climbers for 25 jobs on Wednesday morning.
Jay Yang rode his bike by the Union Hall off Normandy a few hours earlier and found five guys with beach chairs, sleeping bags, and coolers with three days of food and supplies – they were camping out for this job. Jay began a phone chain through the class; 15 of our guys were already on the street with more on the way. It looked like our art presentation was job line delayed. The current economic crises led our class to jobs, to follow the energy towards the fluid charge of energy at its source.
Over the next three days as the final students passed their climbing competency exams and joined the job line the thrill of togetherness, self-confidence and agency was overwhelming. Much of our class, eager for work, was at the front of a line that eventually grew to 315 people. There was lots of coffee, waiting and reflection. It felt like a class camping trip that happened to take place on a side street in Koreatown opposite an elementary school.
It rained the second night. Lementry Simmons' wife was going to give birth any moment as he slept sitting up. Tuesday morning at the poleyard, eight students finished their climbing competencies. Cody Patterson finished his at 9am and was then in line trying to get a job within 15 minutes. All 230 pounds of Dwayne Hogue did a jumping bear hug onto Marc Cardenas who days later quit his grocery store job for his training with DWP.
In July and August, Damon Hughes collected photographs from the class, edited and set them to Akon's R&B hit, Over the Edge, and posted a four-minute video onto YouTube. He also sent an email note: Looks like most of the class will be DWP. As you know we had many go to the 1st training class and the second training class starts Sept 28th, which I'll be a part of. But the guys are having a blast out on the streets of L.A. working. A lot of 'em are working 6 days a week- not bad, not bad at all- if you like to work. And then there's going to be another class after ours- date unknown to me right now. But things are looking good for our class. Well, you take care and have fun out there...
When Damon Hughes created and sent us that YouTube video, he contributed to culture without any special concept or art degree. I'm unsure of my willingness to accept the limitations of "classes". There are no more borders to cross. We've come to the final frontier between people and it's within our minds. The 20th century myth of the loner artist frontiersman genius is over. Our fifty person collaborations proved to our class that each of us are as capable of making art as any of the "artists" in my graduate "art" program. The 21st century is about these collaborations –it is the billions of connections between points, as opposed to the points themselves. "Classes" are an outdated concept.
I initially had the false impression that lineman students are conservative. Their hunger and value placed on art-making was so utterly unexpected. To hear artist/lineman Josh Mullen's complex vision of Los Angeles' infrastructural grid of transmission lines, aqueducts, freeways, mountains and palm trees, from the105 - 110 carpool transition and South LA high point, while bussing to class was a perfect empathetic aesthetic moment. Hearing of lineman/artist Chris Sotelo's high school walkout, two years ago on May Day, that was better than any performance I've done. My friend Christian Cummings says it best "Follow the Energy"— art is where you make it…
1. Lineman includes collaboratively written text/bios from each member of the class, hundreds of color photographs, and a bit about our other art projects together. It was printed in an edition of 2,000 so everyone had a stack to give out. To get one please email mp(at)routesandmethods.org. (back)